Tips For a Teeth-Friendly Thanksgiving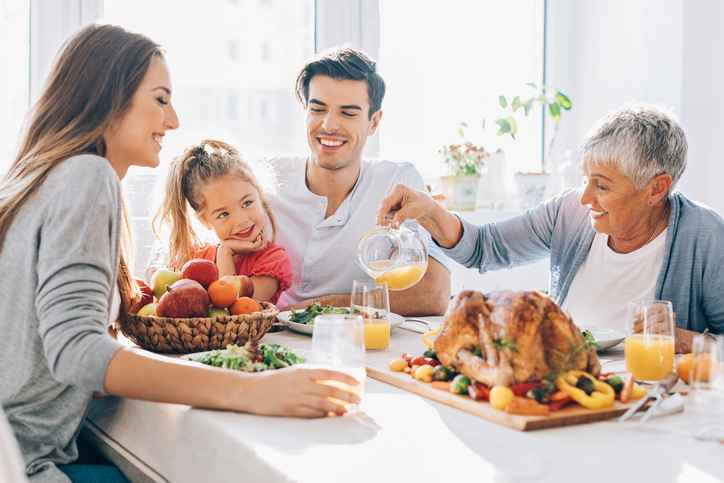 Who's excited for Thanksgiving? You might be, but your mouth is thinking otherwise. Thanksgiving is a great holiday to eat as much as your heart desires without feeling too guilty afterward, but if you want to make sure your teeth don't suffer the consequences, utilize these tips for a teeth-friendly holiday:  
Eat Teeth-Friendly Thanksgiving Foods
Watching what you eat is the first step in taking care of your teeth during your Thanksgiving celebrations. Enjoy more of these foods at dinner, knowing you're keeping your teeth happy and healthy:
Cheese
Raw veggies
Green beans
Nuts
Fresh cranberry sauce
Turkey
Ham
Watch Your Sugar Intake
Dessert is another Thanksgiving staple with delicious sweets like pumpkin or apple pie, ice cream, and cookies. But, sugar can be very harmful to your teeth and gums. Sugar interacts with the bacteria in your mouth, creating acid that erodes the enamel protecting your teeth, leaving you more vulnerable to cavities and decay. So, it's best to limit the sweets.
Stick With Water
With plenty of festive drinks like soda, champagne, wine, and more, they can be tempting. However, since you'll likely be eating plenty of sugar and carbs off your plate, it's best to just drink water. Also, drinking plenty of water during and after your meal helps keep your mouth clean of any food particles trying to stick between your teeth and gums.
Have a Dental-Kit Ready For Use
Ideally, every meal should be followed by thorough teeth brushing and flossing, but that may be difficult, especially if you are away from home for your Thanksgiving celebrations. That, however, doesn't mean you can't be prepared and bring a convenient dental to-go kit! Simply grab a small bag and pack the necessary staples, including floss picks, sugar-free gum, mouth wash, and even a toothbrush and toothpaste. Your teeth and gums will thank you!
Contact us to schedule your dental cleaning appointment!
If you are worried about your teeth, need a cleaning, or are experiencing any dental problems, give Fairfield Dental Arts a call at (203) 254-3780. We are your family's dentist and can provide expert oral care for people of all ages!