12 Days of Cleaning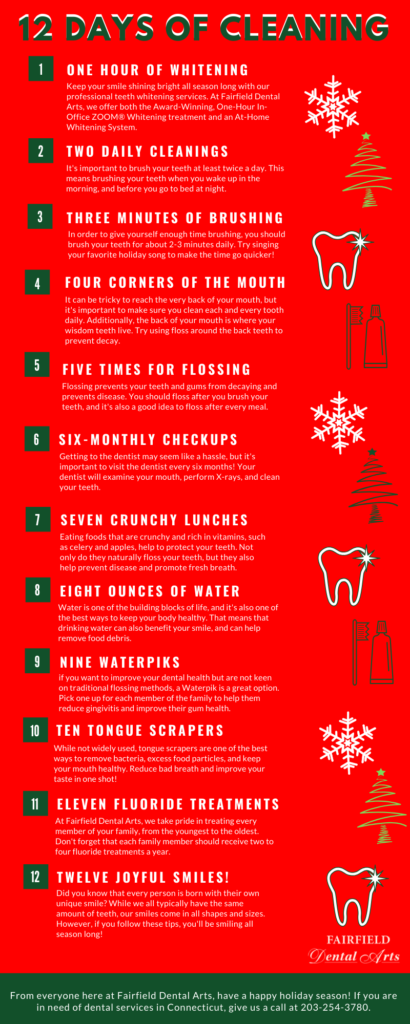 Keep your smile merry and bright with the 12 Days of Christmas!
One Hour of Whitening
Keep your smile shining bright all season long with our professional teeth whitening services. At Fairfield Dental Arts, we offer both the Award-Winning, One-Hour In-Office ZOOM® Whitening treatment, and an At-Home Whitening System.
Two Daily Cleanings
It's important to brush your teeth at least twice a day. This means brushing your teeth when you wake up in the morning, and before you go to bed at night.
Three Minutes of Brushing
In order to give yourself enough time brushing, you should brush your teeth for about 2-3 minutes daily. Try singing your favorite holiday song to make the time go quicker!
Four Corners of the Mouth
It can be tricky to reach the very back of your mouth, but it's important to make sure you clean each and every tooth daily. Additionally, the back of your mouth is where your wisdom teeth live. Try using floss around the back teeth to prevent decay.
Five Times for Flossing
Flossing prevents your teeth and gums from decaying and prevents disease. You should floss after you brush your teeth, and it's also a good idea to floss after every meal.
Six Monthly Checkups
Getting to the dentist may seem like a hassle, but it's important to visit the dentist every six months! Your dentist will examine your mouth, perform X-rays, and clean your teeth.
Seven Crunchy Lunches
Eating foods that are crunchy and rich in vitamins, such as celery and apples, help to protect your teeth. Not only do they naturally floss your teeth, but they also help prevent disease and promote fresh breath.
Eight Ounces of Water
Water is one of the building blocks of life, and it's also one of the best ways to keep your body healthy. That means that drinking water can also benefit your smile, and can help remove food debris.
Nine WaterPiks
if you want to improve your dental health but are not keen on traditional flossing methods, a Waterpik is a great option. Pick one up for each member of the family to help them reduce gingivitis and improve their gum health.
Ten Tongue Scrapers
While not widely used, tongue scrapers are one of the best ways to remove bacteria, excess food particles, and keep your mouth healthy. Reduce bad breath and improve your taste in one shot!
Eleven Fluoride Treatments
At Fairfield Dental Arts, we take pride in treating every member of your family, from the youngest to the oldest. Don't forget that each family member should receive two to four fluoride treatments a year.
Twelve Joyful Smiles!
Did you know that every person is born with their own unique smile? While we all typically have the same amount of teeth, our smiles come in all shapes and sizes. However, if you follow these tips, you'll be smiling all season long!
From everyone here at Fairfield Dental Arts, have a happy holiday season! If you are in need of dental services in Connecticut, give us a call at 203-254-3780.